Wednesday, June 29, 2011
Posted by Don Tolson in "Windows Phone Software" @ 10:00 AM

Product Category: WP7 software
Manufacturer: Spb SoftwareHouse
Where to Buy: WP7 Marketplace
Price: Free! (for now...)
System Requirements: Available for Android, Mac, PC, Windows Mobile, Symbian, etc. Version reviewed is V2.0 for Windows Phone 7
Specifications: Requires approx. 0.7mb on the device. Requires access to location information and a data service (either via cell phone or WiFi)
Pros:
It's free!;
Over 150 channels of programming available, from all over the globe.
Cons:
Slow and requires constant buffering;
Sound and action aren't in sync;
Most of the channels are community access, religious, or news.
Summary: When I first heard about Spb coming out with a TV app for Windows Phone 7, I was intrigued since I have become quite enamored of non-North American news sites where I find provide a much broader perspective on world events. I was looking forward to streaming video material from beyond my backyard, right at my phone. Unfortunately, I don't think Spb has quite got the hang of WP7 just yet. Let me explain.
Getting Started
As mentioned above (and is the case with almost ALL WP7 apps) SpbTV is downloaded and installed on your phone via the WP7 Marketplace. It doesn't take too long to get onto the phone, since it's fairly small (700K), and installation happens fairly quickly. From there, you exit the Marketplace and return to your apps menu and scroll down to find SpbTV.
Starting SpbTV seems to take a while (almost 20 secs or more on my LG Quantum) but I suspect this is due to it needing to make a data connection with the internet video streaming service(s). Just a word of warning -- this is a data intensive application, so I would recommend you use your home wi-fi or have an unlimited data plan (if those things still exist!).
Unfortunately, the first thing you see is a 'logon' screen, which asks for your name, gender, birthday and email address. I suspect this is a way for Spb to collect marketing contacts, but fortunately there is a 'Skip' button at the bottom which will take you directly into the app. I didn't check to see if this went away if I actually filled it in once.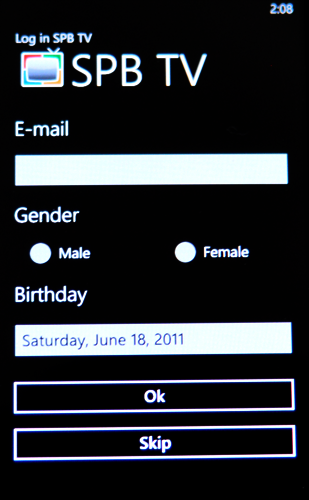 Figure 1: A camera shot of the 'login' screen for SpbTV. I always just hit 'Skip' since I don't really need more marketing material from Spb.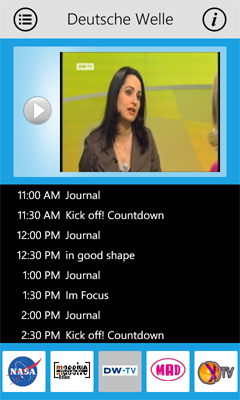 Figure 2: Main screen of SpbTV. When SpbTV starts up, it returns to the last channel you were viewing when you left. The example shown here is for a live-streaming channel much like we're used to on regular TV -- with shows occurring at specific times. The schedule seems to be the current time where the station is located. (Screenshot courtesy of Spb)
---