Tuesday, April 26, 2011
Posted by Nelson Ocampo in "Windows Phone News" @ 09:30 PM
"One thing we tried to push at MIX11, despite all the awesome news, was all that info was for developers, not consumers (though we tried to show why it mattered). The point being that Microsoft still has tricks up their sleeves for Mango/7.5 that we have yet to see and we're sure there will be plenty."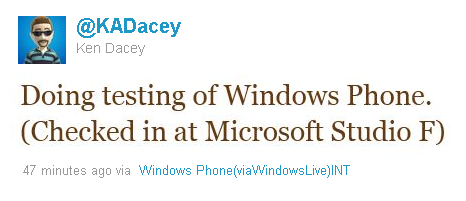 The tweet above suggests that @KADacey was testing a feature similar to Foursquare's check-ins. If you're unfamiliar with check-ins, it is basically a way for users to communicate their location to their friends in real time by checking in to specific places.
Don't bother going to Twitter to look for this tweet though. It's apparently been deleted. So I'm going to go out on a limb and say that this feature was probably not something that Microsoft wanted the public knowing about yet.
While we do know a few things that will be coming in the Mango update, the things we learned at MIX11 were aimed at the developer community. Perhaps this is just one tidbit of what we can expect when Microsoft announces Mango features targeted at consumers.
---