Monday, February 28, 2011
Posted by Brad Wasson in "Windows Phone Talk" @ 12:30 PM
"Nemo is for creating notes and lists in obviously simple and easy manner. It embraces clean and elegant Metro UI. When you start Nemo, it goes straight into text input mode with minimal distractions; you don't need to worry about its subject line or file name. Your notes will be listed with the information automatically extracted from your memo."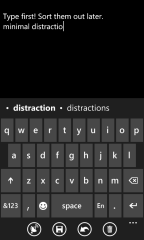 Do you have a tendency to make lists for todo's, shopping items or not-so-important phone numbers? If so, this app is likely worth being on your evaluation list. To create list entries you simply need to type them in order. When you need to start a new item, just add an extra blank line. Once a list is created, you can mark an item finished or done by tapping it. A marked item is easily distinguishable as Nemo applies dimmer color and adds a strikethrough line.
For organizing memos, Nemo supports creating unlimited number of groups, and you can freely and easily move your memos from one group to another. Nemo also supports color-coded collapsible multi-level memo listing. The app is available now in the Marketplace -- add an item in your todo list to check it out.
---