Thursday, December 23, 2010
Posted by Don Tolson in "HTC Windows Phones" @ 08:00 AM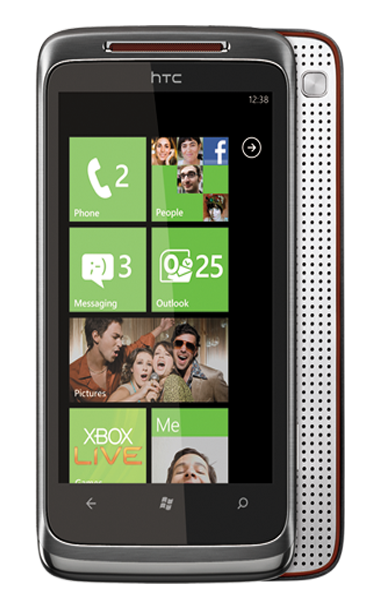 Product Category: Windows Phone 7 Smartphone
Manufacturer: HTC
Where to Buy: Expansys [affiliate]
Price: $589 USD unlocked (my unit was $450CAD from Future Shop with no contract)
System Requirements: Windows Phone 7. You'll need a Windows Live account to take full advantage of the social media and marketplace.
Specifications: 1Ghz CPU with 512MbROM, 488MbRAM, 16Gb internal storage; 3.8 WVGA (480 x 800) screen; Quad band (850/900/1800/1900), GPS, 5mp colour camera w/autofocus + flash, 720p HD video recording; BT 2.1 w/A2DP, 802.11b/g/n; 3.5mm stereo audio jack; microUSB 2.0; digital compass and G-Sensor; 120mm (4.7in) x 62mm (2.4in) x 13mm (0.5in); 165g (5.8 oz). Full specs are available at the HTC site.
Pros:
It's Windows Phone 7!;
Comes with 16GB of user available storage;
Very useable, high quality phone and multi-media device.
Cons:
The slide-out speakers are gimmicky and don't really improve the sound;
Overall build quality is a bit 'soft' especially around the screen edges and the fit of the back cover;
The available applications are clearly lacking some polish.
Summary: The HTC 7 Surround is among the first of the Windows Phone 7 smartphones to appear on the market, and clearly HTC is aiming this one toward people who like to share music and videos with others (or don't want to bother with earbuds :-). But how does it fare as an actual phone? ... and does the addition of extra speakers and Dolby Surround Sound (TM) really create a '...richer listening and viewing experience'. Let's take a closer look (or listen).
Introduction
In my quest to become amongst the first to own and use a Windows Phone 7 phone in Canada (nay, North America?) I started searching for available phones on the very first days they were announced on North American carriers. My primary cell carrier here in Canada (Rogers) proudly displayed their ads for the Samsung Focus but I quickly found that none of the local retailers had any stock ("It's coming soon!") and Rogers was not willing to entertain a trade-in on the Xperia X10 I had recently acquired. So, I started looking at the other carriers. First of all, I had to convince myself that the other phones would work on Roger's network, since they only recently came onto the GSM platform. After a quick check of various websites, I was fairly confident that I could make a Bell or Telus phone work on Rogers 3G. Bell carries the LG Quantum with no contract, but every store I approached said I had to at least buy a month-by-month contract which I could cancel after the first month. Finally, I happened to be browsing through a local Future Shop when a bright young sales associate asked me what I was interested in. When I told him I was looking for Windows Phone 7 phones but no contract, he said he could sell me Telus' HTC 7 Surround for $450 and I could just contact Telus to get it activated. When I told him about unlocking the phone and using it on Rogers, he looked perplexed and said "Can you do that?" (I love newbies...) So, I happily paid my $450CAD, found a vendor on eBay who would provide me with an unlock code and proceeded to enjoy what I imagine to be the first HTC 7 Surround on the Rogers network!
What Comes in the Package
By now, we're starting to see some pretty consistent patterns in phone packaging. Typically with a new phone, you get the phone, some manuals, earbuds, a power supply and a charging/sync cable. The HTC 7 Surround is no different.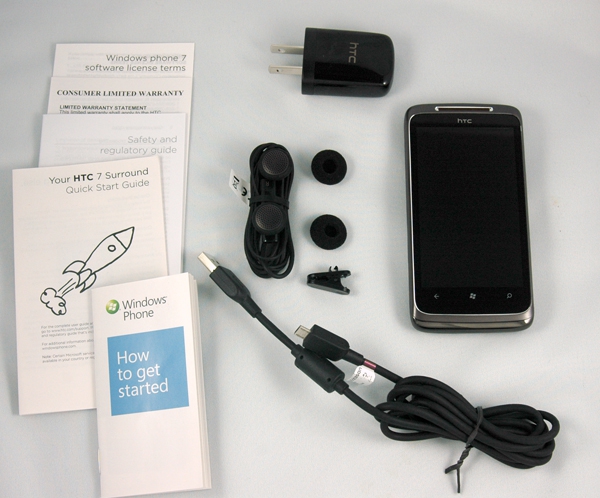 Figure 1: Here's what comes in the package. Along the left is all the brochure-ware including quick-start guides for both the phone and Windows Phone 7. At the top in the middle is the power block/charger with a socket for the USB to micro-USB cable (on the right near the bottom). In the middle is a set of earbuds with foam covers and a shirt clip for the microphone, and to the far right is the HTC 7 Surround itself.
---