Wednesday, September 29, 2010
Posted by Don Tolson in "Windows Phone Accessories" @ 07:00 AM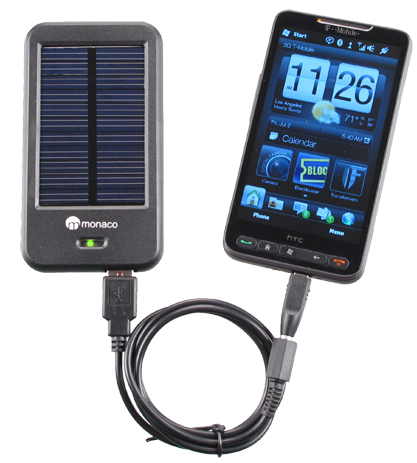 Product Category: Accessories -- Solar powered cell phone charger
Manufacturer: Monaco
Price: $79.95 USD (regularly, but may be on sale...)
Specifications: Battery Capacity: 1800mAh; Weight: 93.5 grams / 3.3 oz; Dimensions: 55.5 x 105.8 x 14.5mm.
Pros:
Convenient, lightweight;
Charges quickly in sunlight;
Suitable for almost any type of USB-powered device.
Cons:
Regular price is a bit high, but vendor seems to be having discount sales;
Depending upon the consumption of your unit, the battery may only provide one day of use.
Summary: There are lots of emergency power accessories and options available for phones, games systems, music players, etc. but most suffer from a common shortcoming -- lack of power when you need them most, far away from a wall socket. Enter Monaco, with a different spin on a solution. Instead of providing just a battery or set of solar cells, why not combine them into a single package - a wall or solar chargeable battery pack!
What's in the Package
As with all the material we've received from WirelessGround, the package comes very well stocked, as you can see below.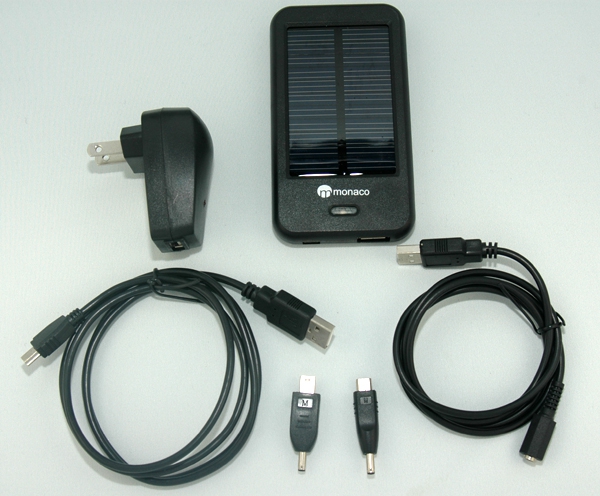 Figure 1: Here's what comes in the box.
From the top left, going clockwise, there is a standard USB output wall charger (USB jack on the bottom); the solar cell/battery unit, a USB power cord with standard USB at one end and a 2.5mm power jack at the other; adapters for changing the 2.5mm power jack to standard or mini or micro USB; and a standard USB to mini-USB cable for charging the solar cell/battery unit via the wall charger or an active USB port on another laptop or PC.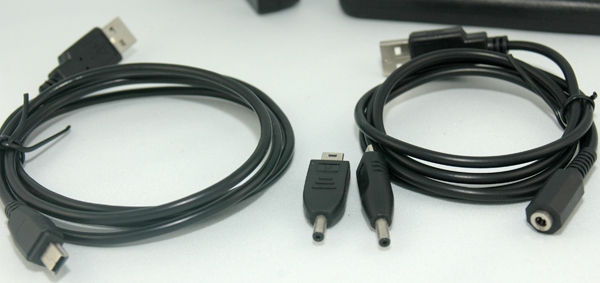 Figure 2: Here's a closer shot of the two cables provided with the unit. On the left is the standard USB to mini-USB cable used to charge up the unit's battery. On the right is the cable + adapters to supply power to your favorite power-depleted portable unit.
About the only thing missing from this package might be a specific adapter for Apple's iPhone series. A quick check of the WirelessGround website shows that they have a version of this package for the Apple line, but with their own cables. I'm sure there are adapter cables around somewhere...:-), or you could just use the USB cable supplied by Apple.
On the bottom of the solar cell/battery unit, there are two jacks. One is used to supply power into the unit to charge the battery (if you're a bit short of sun), and the other provides power out to your device.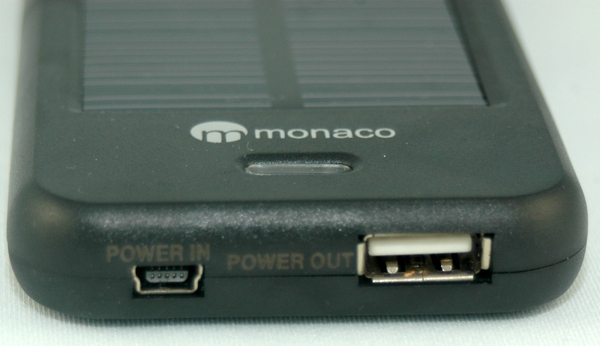 Figure 3: Note the two jacks on the bottom. The one on the left is marked POWER IN to denote connections to charge up the internal battery; and the other (marked POWER OUT) supplies power to other USB-powered devices.
Overall, the solar cell/battery unit is about the same size as my AT&T Tilt 2 and most of the larger-screen phones that are out there today. It is considerably lighter than a Tilt2 (no sliding keyboard :-)) and feels like it's maybe a bit lighter than my iPod Touch.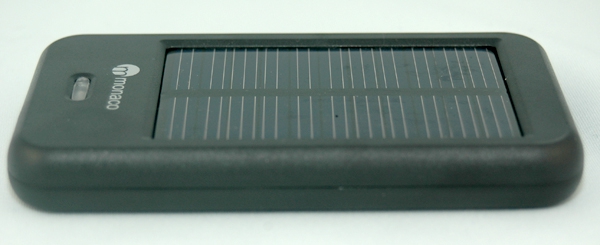 Figure 4: A side look at the solar charger / battery. It's about the same thickness as most 'older style' (i.e. non-iPhone style) phones.
---