Monday, April 11, 2011
Posted by Chris Hordley in "Android Software" @ 08:00 AM
In More Detail
Before I discuss the need for such a tool, for that is what a keyboard must be, I do want to cover how to use it. This review is of the keypad I have installed on my HTC Desire but the operation on any device will be similar. I should point out that I prefer to use portrait orientation, as shown below, but the keypad works in landscape too and this view shows the features more clearly.

Figure 2: Main keypad in landscape, showing the sub-level symbols, trace pattern and Swype key.
As you trace you form the blue path shown but this view enables you to see what I think are the real winning features of Swype and what set it above many of its rivals, including the iPhone keyboard. My first big love is for those sub-symbols on the keys. There are more on the SYM or the number/symbol pad accessed from that key on the bottom row, indeed there are four keypads or layers on my version. This may just make it all seem very complicated but read on.
For the first three weeks I did not explore much beyond this ABC level but I am showing the others later, including the numeric layer which has even more sub-symbols and extras (some of which may well be alien speak, especially those shown when you hit the shift key!). Don't panic, reassuringly, you can see the QWERTY layout (OK there may be better ones, but for some people it would be like changing the side of the road we drive on to alter that). You could just use Swype from just the ABC pad because if you tap and hold the key, the other, smaller number or symbol will appear as a blue square or on a choice box. So you can enter mixed letters and numbers easily, which is great for the long passwords we all need to be using.
Another firm yes from me goes to how the keypad changes to show the case (capitals or small letters) that you will get if you use the shift arrow key, unlike on the iPhone. You really need to look at the tutorial or tips on how to do capitals etc. but one way is to use the shift key. Another is to slide above the keypad after your first letter.
So, at first glance it is a recognizable keyboard which can be used to tap type and sometimes this is quicker but it would be a shame not to show you what else you can do with this software.
More Options Than You Can Throw a Hat At...

Figure 3: Numeric keypad in portrait orientation, shift key reveals further symbols.
Now you can see the SYM level, clever isn't it and there is even a phone keypad orientation, (hold that SYM key longer, whoops, it has now got ABC and the smaller 123 on it as a clue). It really is worth finding out about the user tips, most of which are done as videos, because there are almost always to ways of doing something. Choose which suits you. Just tap out you numbers on this pad. OPT or the blue S key takes you to a very useful menu which will link you to options to tweak the software and to help etc.
Even More Layers?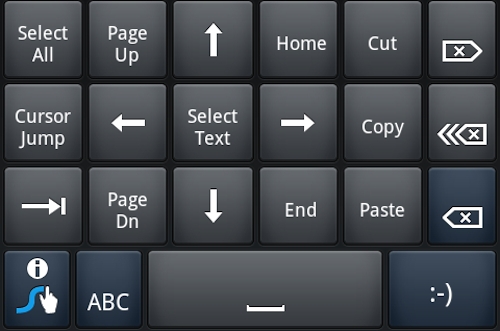 Figure 4: Editing layer, entered by sliding from blue S to next key, exit by ABC key
Now, this is where Swype really shows its strength. You reach this layer by sliding from bottom left "S" to its neighbour key. I would have loved Swype if I hadn't found this layer but if you are taking the time to read this review then I want to extol the virtues of this facility. Some of these keys are self evident or just easy to try. The advice from the Swype guys is to put in a body of text without stopping at every error and then edit it. You can navigate around the body of your text with the arrows and there are three delete buttons: backward by word, by letter or forward delete. Copy, cut and paste and Select Text speak for themselves and I have found that most applications will accept Swype input. By the way, if you double tap a word in your text you will get a correction choice box without using the above pad.
---