Friday, July 4, 2008
Posted by Don Tolson in "Pocket PC Software" @ 07:00 AM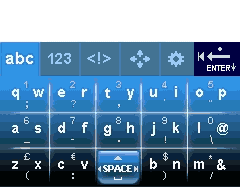 Product Category:
Soft Input Program (SIP a.k.a. soft keyboard)
Manufacturer:
CooTek
Where to Buy:
CooTek

Price:
$12.98 USD
System Requirements:
Windows Mobile Professional 5.0 and above.
Specifications:
Requires approx. 1.1Mb of program memory (including help files, etc.) default English QWERTY keyboard included, but other languages and keyboards are available for download.
Pros:
Simple and relatively small;
Innovative design which maximizes 'finger' friendliness;
Lots of documentation (animated!) to get you started;
Very configurable.


Cons:
Lots of different gestures to remember to get specific features;
Predictive Engine overrides what's actually input (unless you set up precise input, which may slow you down);
Keyboard sometimes blocks input fields at bottom of screen.

Summary:
As I spend more and more time with a keyboard-enabled smartphone, I appreciate the convenience of direct tactile input for larger messages. There are times though, when I want to look up a contact or record a new appointment quickly without bothering with the keyboard. Then, I need a soft keyboard interface that's quick, easy and predictable. TouchPal has been talked about on the discussion forums for a number of months now, and people seem to either rave about it or diss it. So what's the real story? Can it actually provide 300wpm input? Let's take it out for a spin....
Read more...
---