Wednesday, December 16, 2009
Posted by Ron Hostetter in "Windows Phone Software" @ 07:00 AM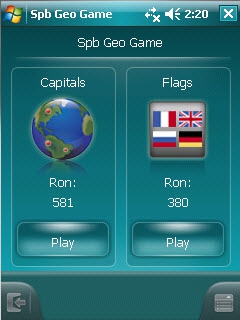 Product Category: Game
Manufacturer: Spb Software
Where to Buy: MobiHand [affiliate]
Current Version: 1.0.1
Supported Platforms: Windows Mobile 5 (Phone Edition and PocketPC Edition); Windows Mobile 6 (Classic, Professional); Windows Mobile 6.1 (Classic Professional); Android
Specifications: Download Size: 4.6MB; Size on Device: 3.7MB
Price: $4.95 USD
Pros:
Inexpensive way to pass the time and learn something;
Pleasing graphics represent flags and globe nicely;
Finger-friendly interface.
Cons:
Doesn't show how many points I'm earning on each question;
Could use more features such as facts about the capitals or countries.
Summary: Spb Software has just released its Geo Game for Pocket PC. The goal of the game is to give players a fun way to learn about capitals and flags from around the globe. The game is simple to use and pleasing to the eye, but offers little more than multiple choice game play.
---