Wednesday, September 29, 2010
Posted by Don Tolson in "Windows Phone Accessories" @ 07:00 AM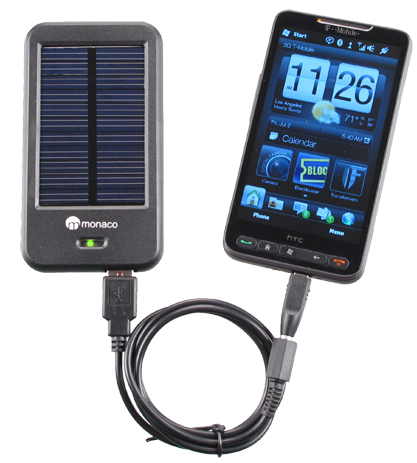 Product Category: Accessories -- Solar powered cell phone charger
Manufacturer: Monaco
Price: $79.95 USD (regularly, but may be on sale...)
Specifications: Battery Capacity: 1800mAh; Weight: 93.5 grams / 3.3 oz; Dimensions: 55.5 x 105.8 x 14.5mm.
Pros:
Convenient, lightweight;
Charges quickly in sunlight;
Suitable for almost any type of USB-powered device.
Cons:
Regular price is a bit high, but vendor seems to be having discount sales;
Depending upon the consumption of your unit, the battery may only provide one day of use.
Summary: There are lots of emergency power accessories and options available for phones, games systems, music players, etc. but most suffer from a common shortcoming -- lack of power when you need them most, far away from a wall socket. Enter Monaco, with a different spin on a solution. Instead of providing just a battery or set of solar cells, why not combine them into a single package - a wall or solar chargeable battery pack!
---