Wednesday, August 5, 2009
Posted by Don Tolson in "Pocket PC Hardware" @ 07:00 AM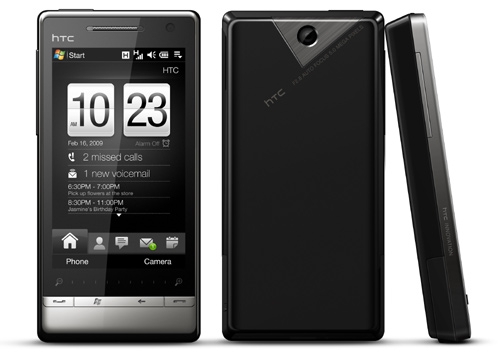 Product Category: PDA phone
Manufacturer: HTC
Where to Buy: Expansys [Affiliate]
Price: $524.99 USD
System Requirements: Comes with Windows Mobile 6.1 and HTC's TouchFlo 3D interface. Sorry, no word from HTC on 6.5 or 7 upgrade at this time.
Specifications: Qualcom MSM7200A running at 528MHz; 512Mb ROM, 288 Mb RAM; 3.2 inch TFT LCD screen in 480x800 resolution; Quad band GPRS/Edge + dual band (Europe/Asia only) HSPDA/WCDMA; 117.5g (4.1 oz) with battery; 108mm (4.3 in) x 53mm (2.1in) x 14mm (0.6in). Full specifications from HTC are available here.
Pros:
Huge, bright screen with vibrant colours;
Sleek, professional look; good feel in the hand and very pocketable;
TouchFlo 3D interface is very smooth, responsive and finger-friendly -- little need to use the stylus for most functions;
GPS Receiver is Phenomenal!
Cons:
Soft reset button is located inside the unit so you have to take the back cover off if things get 'stuck';
Really wish HTC would add a Tasks tab to TouchFlo.
Summary: Right from the top let me say I LOVE the Touch Diamond 2. It has a very classy look; the size and weight are very comfortable in the hand' and the WVGA screen is clear, vibrant and huge! HTC's TouchFlo interface is quicker and smoother in this version, with new features and greater depth into the Windows Mobile GUI. As a whole, everything about this phone just works exactly as you'd expect it to. Easy, Expected and Reliable is exactly what I'm looking for in a personal digital assistant and the Touch Diamond 2 has it all. I really hated to have to return this at the end of the review period. Read more...
---