Wednesday, July 29, 2009
Posted by Jason Dunn in "Pocket PC News" @ 02:22 PM
"T-Mobile USA, Inc., and HTC Corp. today announced the upcoming availability of the HTC Touch Pro2TM, a powerful, stylish device with an intuitive touch screen and user interface that enables customers to simplify their communication and mobile Internet experience while staying connected, informed and in control of work and life. The device will be available in a mocha finish to T-Mobile customers beginning Aug. 12.
Enabled for T-Mobile's expanding high-speed 3G network and Wi-Fi (802.11 b/g), the HTC Touch Pro2 offers fast data delivery and an enhanced Web-browsing experience along with popular features such as built-in GPS and location-based services. Featuring a 3.6-inch color WVGA touchscreen that slides back and tilts up to reveal a full-QWERTY keyboard, the screen is perfectly positioned for reading and creating e-mail, browsing the Web, using applications, and playing videos and games. A 3.2 megapixel camera with auto focus also provides customers with an easy way to capture and share high-quality images and video as well as view that content on the crisp display."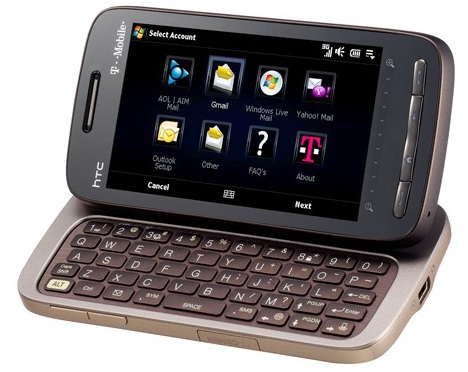 Image courtesy of Engadget Mobile.
I've had a chance to use the Touch Pro2 over the past week, and I've got to say, this is one impressive device. T-Mobile is the first US-based carrier to release this uber-device, but they won't be the last. I'm not sure how I feel about the "mocha" colouring on this though. Any of you T-Mobile users plan on picking this up?
---