Monday, September 22, 2008
Posted by Jason Dunn in "Digital Home News" @ 09:00 PM
"For most of recorded music's life, delivery was tied to a physical medium of some sort. Physical formats included the vinyl record, cassette tape and the CD many of us still use today. With the advent of the digital age and digital music, the physical medium for music is a dying breed. The lack of interest in physical media for music has led to sharp declines in profits for music publishers. Most every music publisher sells digital tracks today, but the profit margins on digital music are much slimmer than what music companies see on CDs and other physical mediums."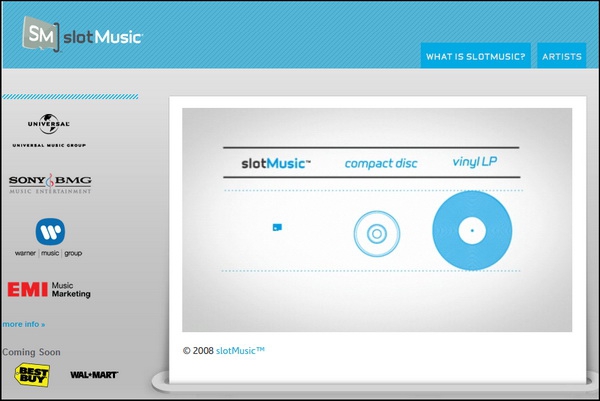 This is one of the very rare posts that belong on all four Thoughts Media sites, but it's applicable to everyone because it involves music. Looking at the companies involved (Universal, Sony BMG, Warner, EMI) it's easy to see that this is a major initiative. The question is, will it succeed? I think it has a very slim chance of success if they execute the launch flawlessly, and hit a few major issues properly: first, price. If this format is any more expensive than CDs are at retail, it will fail. They also have to add value to the format - pictures and videos are a nice way to do that. If I could buy a slotMusic album of a favourite artist and get their last six music videos included, that would create value for me. And if they encode the MP3s at 320 kbps, higher than the major online music stores, that also creates some value - although only for the people that actually know what the term "bit rate" actually means.
The hurdles that this format has to overcome are many, however: the convenience and speed of online music purchasing is tough to beat, but that's not always true depending on where you live. To date, there is still no DRM-free online music store in Canada for instance, which is why I still tend to get the majority of my music via CDs. Since I imagine this will be launched in the USA first though, they have a tough uphill battle getting people to wait to purchase an album - we're the "We Want It Now" generation, the Internet generation, and we're not known for being patient. There's also the "Green" aspect - why buy something on plastic, certain to be wrapped in much more packaging than it needs to be, if you can get basically the same thing in a purely digital format?
What do you think? Will this succeed, or will it be the next MiniDisc?
---