Friday, July 16, 2010
Posted by Brad Wasson in "Windows Phone Software" @ 01:00 PM
"Astraware is pleased to announce the release of two new games for Windows phone and Windows Mobile devices - OddBlob and Police Range. OddBlob is a fun puzzle arcade game created entirely from modelling clay. Help OddBlob bound across the squishy maze to grab bonuses, chomp fruit, and win points as quickly as he can as the chasing tiles disappear behind. Police Range is Astraware's take on the classic shooting range game. Put your skill and accuracy to the test as you train on the shooting range to become a crack police marksman. Choose from 2 ranges to train on: Target Practice, and Crime Alley, which between them test your accuracy, reaction speeds, eye and nerve!"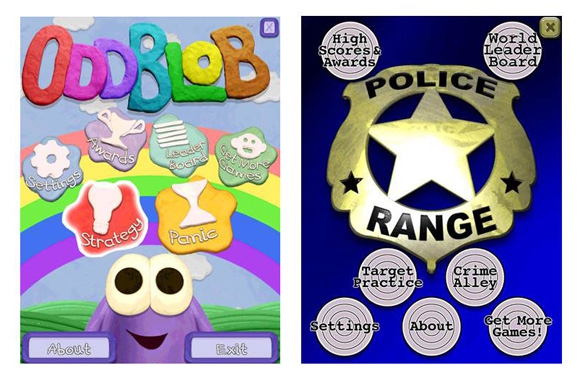 Thought you'd never see another great game or two for Windows Mobile or Windows phone devices? Well, Astraware has come to the rescue with two engaging games for Windows phone (version 5 and later) and Windows Mobile devices that have touchscreens. A nice feature is Astraware's new online high score table, which enables players to submit their best scores using WiFi or other data connection to see how they compare with other players worldwide. Players with non-connected devices can post their scores on the local high score table.
The OddBlob game and Police Range are both available now for $4.99 each, and a special discount is available for Astraware Newsletter subscribers.
---