Wednesday, June 9, 2010
Posted by Eriq Cook in "Windows Phone Software" @ 10:52 AM
"The flip to mute feature on the HTC HD2 is pretty cool, but only works during an incoming call, when its rather too late not to disturb anyone. FLip2Mute takes the feature to its logical conclusion, allowing users to set their device on vibrate or turn the screen off with a simple flip."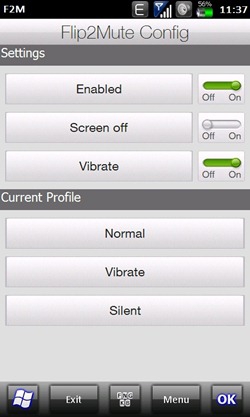 After some initial download difficulties I was able to install Flip2Mute on my Touch Pro2 just to check it out, and it works well. I could quickly set the device to vibrate or mute when flipping over either in the air or on a flat surface. Flip2Mute is available as a free download at freewarepocketpc.net. It requires a WVGA device running Windows Mobile 6.5 and .Net 3.5 installed.
Does anyone use Flip2Mute or plan on installing it?
---