Monday, May 17, 2010
Posted by Eriq Cook in "Windows Phone News" @ 07:25 PM
If you check out MSN Mobile today, you'll see some big changes. We're excited to announce the launch of the new MSN Mobile homepage! So, what's the difference between the old homepage and the new one? Since pictures speak a thousand words...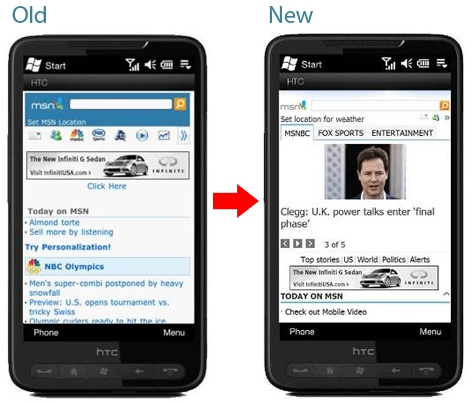 Following after the MSN web portal redesign about two months ago, Microsoft recently rolled out the new MSN Mobile website. The new mobile site reflects the cleaner design of its non-mobile counterpart, and optimized for even faster loading on mobile devices. Some notable features include improved search and navigation, bigger photos, better social media and video integration.
A full list of features and comparison screen shots are available on MSN's official blog page. To view the new site go to http://mobile.msn.com, and if you have a minute or two tell us your thoughts!
---