Sunday, February 15, 2009
Posted by Darius Wey in "Pocket PC Software" @ 08:00 AM
"Microsoft Recite Technology Preview makes a busy mobile lifestyle easier by providing an easy method for remembering, searching, and retrieving mental notes and reminders from their Windows Mobile® device using the sound of their voice. Without navigating menus or tapping out text just speak your mental note to store it. Later, when you need the information just search and retrieve the remembrance using your voice."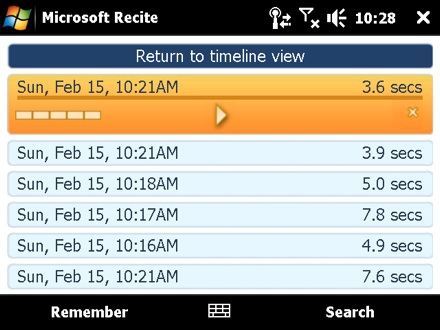 Microsoft has taken voice notes to a new level. The tech preview of Recite is now available for devices running Windows Mobile 6.0 and higher. What sets it apart from the default Notes application is that you can not only store, but also search and retrieve notes using your voice. Check out the Recite blog to see just how this application works, or if you're not the reading type (which would be alarming, considering you made it this far through the post), why not download it and try it yourself?
Thanks to Geek.com for the image.
---