Tuesday, January 27, 2009
Posted by Jon Westfall in "Pocket PC Talk" @ 12:00 AM
Back many years ago, it was quite cool to pull a Batman-esque utility belt look by slapping your expensive phone to your hip. These days that look has mostly gone out of style in favor of more discrete ways of carrying your electronic gizmo collection. Pockets, however, can be a bit dangerous for a device. Briefcases and purses keep devices safe, but require one more thing to carry. And lastly, the shirt pocket (My preference, see below) may keep the device at hand but looks uber-geeky in the way only a pocket protector could ever envy. But hey - a man has to put his device somewhere!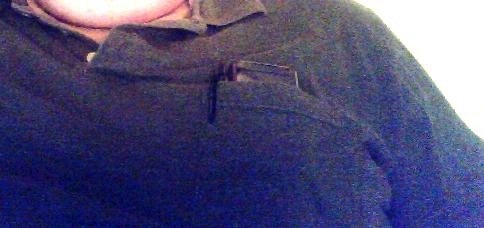 The Omnia Peeks Out while the uniball gel pen confidently stands.
So now that we're mostly out of the utility belt era, where do you keep your device during the day? And do you protect it with a case or cover of some sort? I normally don't, but then again - I live dangerously (as the gel pen sans pocket protector above indicates).
---