Wednesday, October 22, 2008
Posted by Jason Dunn in "Pocket PC Hardware" @ 01:23 PM
"The Epix is Samsung's first AT&T Windows Mobile® 6.1 Professional device featuring touch screen capability-built for enterprise and small business customers. The Epix is a powerful smartphone that offers features like a high-speed processor, large application memory capacity, and aGPS to run corporate email, location-based services, and vertical application solutions. The Epix has the manageability and security capabilities that enterprise IT managers seek, including Microsoft System Center Mobile Device Manager deployment-a security and manageability server that enables enterprise IT administrators to better manage mobile devices. The Epix is a world-capable, 3G smartphone featuring tri-band HSDPA (850/1900/2100) and quad-band EDGE (850/900/1800/1900). Its touchscreen, full QWERTY keyboard, dedicated function keys, and optical center navigation button with mouse pointer enable easy one-hand operation for even the most complex multitasking needs."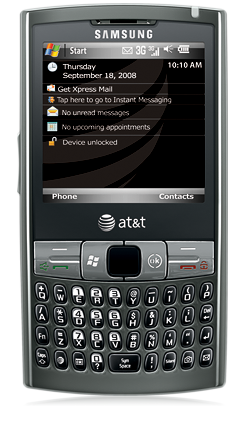 When I was browsing the Windows Mobile device picker I saw the Samsung Epix come up. I haven't seen any news about this posted on Samsung's Web site yet, but it's live on AT&T's site. What makes this device interesting is the form-factor. It's a Windows Mobile Professional 6.1 device, so it has a touch-screen, but it also has a front-facing QWERTY keyboard. I thought it was a Windows Mobile standard device, a la Blackjack, at first. It boasts a 624 mhz ARM920T PXA311 processor, 256 MB ROM, and 150 MB of RAM. It has a 2.4" QVGA 320 x 320 screen, GPS, and a microSD slot that supports up to 32 GB. The d-pad in the middle is actually an optical mouse pad - something I'm highly dubious about until I actually try it and see how it works. It weighs in at 4.4 ounces and is 4.56 x 2.41 x 0.51 inches in size. The battery is a respectable 1800 mAh. Samsung has historically had atrocious battery life on their Pocket PCs, but I've been quite impressed with the battery life on my Samsung Blackjack II - so here's hoping this device has solid battery life.
Want to buy one? I managed to track down the purchase page on AT&T, and it looks like full retail is $449 USD, $299 on a two-year contract, and $199 after a promotion - presumably available for the two-year contract. So what do you think - is this your next device? If not, what's it missing?
---