Tuesday, April 1, 2008
Posted by Darius Wey in "Pocket PC News" @ 11:10 AM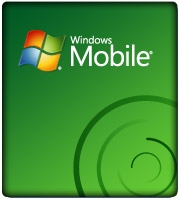 Some of Windows Mobile 6.1's biggest enhancements include threaded SMS support and an improved UI, but there's a lot more in it that makes this
a significant leap
from Windows Mobile 5.0 and Windows Mobile 6. Jump the break for a look at what's new.
GETTING STARTED
Getting Started Center
The Getting Started center provides a way of helping people perform the primary tasks the phone is used for during the first 10 days. Getting Started shows people how to perform important setup tasks, including date and time, personal and work e-mail, security passwords, Bluetooth headsets, backgrounds and ring tones, as well as the ability to transfer music from the PC.

PERSONALIZATION
Sliding Panel Home Screen
Windows Mobile 6.1 gives people an enhanced and simplified way to retrieve their information. One of the first changes users will notice is the new home screen user interface. The Sliding Panel plug-in offers quick, at-a-glance information of the clock, notifications (including voice mail, missed calls and text messages), e-mail, appointments, music and, optionally, Windows Live for Windows Mobile. In addition, once the Start menu button is pressed, people will notice it is now reordered to display the most recently used programs and applications at the top, enabling quicker access. The Most Recently Used Applications view can be turned off from the home screen settings panel.

ENHANCEMENTS TO MESSAGING
Threaded SMS
Windows Mobile 6.1 allows people to view a series of short message service (SMS) threads in one view, cutting down on search time and providing one view of a conversation's history. Entries also show that contact details and contact names are hyperlinked, allowing people to respond immediately via text, phone or e-mail.

Multiselect Functionality
In Messaging, people will now be able to select multiple e-mail or text messages from the List view and enable various bulk actions: delete, move, mark read or unread, and flag messages. In the Contacts view, people can select or select all to delete multiple contacts at once. This feature will also be supported for multiple messages or contacts within a smart filter search.

Direct Push Technology
The over-the-air synchronization process in Windows Mobile 6.1-based devices has been improved further with Exchange Server 2007 Service Pack 1 (SP1). The synchronization architecture has been redesigned to reduce bandwidth by up to 60 percent and improve battery life by up to 33 percent (as tested on internal test devices between Windows Mobile 6 and Windows Mobile 6.1).

PRODUCTIVITY
Cut, Copy and Paste
With Windows Mobile 6.1 non-touch screen devices, people now have the ability to select, cut, copy and paste text, significantly enhancing the user experience. This functionality will be available for composing
e-mail messages in Microsoft Office Outlook Mobile, for text messaging and for working with editable fields in Internet Explorer Mobile. This feature has been previously available in Windows Mobile touch screen phones.

Task Manager Application
Windows Mobile 6.1 adds a Task Manager to help people better manage their device's memory and battery life by allowing them to shut down and switch applications and programs. Users are also able to view general performance data regarding device memory and CPU use. For example, if a person wants to listen to music using Windows Media Player Mobile while running other applications, a message may appear notifying the user of insufficient memory to launch the player. Using Task Manager, that user can quickly navigate to the list of applications running on his or her device, exit unnecessary applications and free up memory.

This feature is anticipated to help reduce mobile operator support costs as devices become easier to troubleshoot.

Live Search for Windows Mobile
Live Search is an optional in-ROM application for device-makers to include in Windows Mobile 6.1-based devices. Live Search for Windows Mobile helps people search for and find destinations and content. Examples include finding restaurants and movie times, checking traffic, getting directions and finding the cheapest gas prices in a city.

Improvements to Internet Explorer Mobile
Internet Explorer Mobile enhances a person's ability to navigate a particular page on the Web. People can select a portion of a page and return to the standard viewing size to see the page up close. Once a person has accessed a particular Web page, he or she can move the selection tool over the section and view it close up.
---