Thursday, September 6, 2007
Posted by Jason Dunn in "HARDWARE" @ 03:58 PM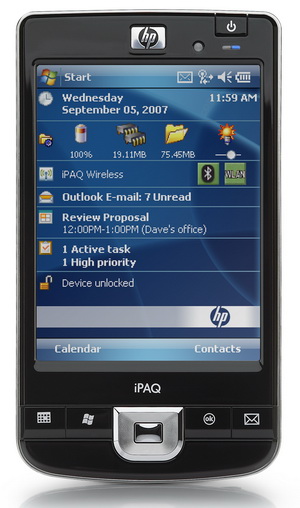 [click image above for high-resolution photo]
Next up in HP's flood of new devices we have the HP iPAQ 200 series Enterprise Handheld. This is a device that will excite many of you hard-core Pocket PC fans who don't want a phone but instead want a kick-ass Pocket PC. Check the specs: 802.11 b/g, 624 mhz Marvell PXA310 CPU, a four VGA (640 x 480) inch screen (260K colours), 64 MB of RAM, 256 MB of Flash ROM, 2200 mAH battery, mini USB connector, 802.11 b/g WiFi, Bluetooth 2.0, 3.5mm headphone jack, and weighs 6.8 ounces. The dimensions are 4.96" x 2.99" x 0.63".
What confuses me is the expansion slots - on the description page it says "store business-critical information with high-capacity SDIO and CompactFlash expansion" yet on the specifications page it says "Micro SD card slot". The PDF I have here says SDIO and CF, so I'm going to assume that's correct - in which case we have a very interesting device! Dual slots, VGA screen, fast CPU - the 64 MB of RAM is a pity, as 128 MB would have been much nicer, but most users should be able to make do with 64 MB since it's not a phone and thus will have a lot fewer processes running all the time. I've seen many people wanting a nice VGA device, so if you're OK with the $449 USD price tag, I think this might be the device for you.
Check out the complete spec sheet
if you want more details. We'll do our best to get you a review of this new device as well.
---