Monday, December 13, 2010
Posted by Brad Wasson in "Windows Phone Talk" @ 06:00 AM
"The application allows you to synchronise your Tasks list with Exchange Server 2007 and later so you can add and update your tasks on the go and always remain in-sync with your Exchange mailbox. It uses the same ActiveSync protocol as the built-in Email and Calendar applications to efficiently and securely synchronise directly with your server over any network type."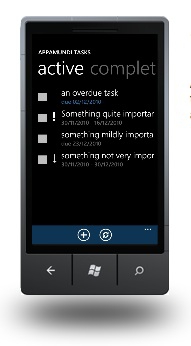 A new app from APPA Mundi allows you to keep your tasks list in sync with your Exchange mailbox so you can update your to-do list on the move and see the same status in Outlook when you are back in the office or at home. Functionality includes the ability to create new tasks and edit existing ones, including marking tasks complete as you finish them. Additional options include:
filter your task list by Status
sort your tasks by Status, Priority, Subject, Start Date or Due Date
create new tasks on your Windows Phone
edit and delete existing tasks
synchronize with Microsoft Exchange Server 2007 and later
A trial version allows entry of up to 4 tasks so that you can get a feel for the application.
---