Thursday, October 14, 2010
Posted by Jason Dunn in "Windows Phone Software" @ 09:30 AM
"With the official Windows Phone 7 announcement going out yesterday, I wanted to let you know that we're working on a version of eWallet for Microsoft's new mobile OS! eWallet for Windows Phone 7 is designed to perfectly fit the look and feel of the new OS. It takes the best features of eWallet and adapts them to Window Phone 7's unique interface."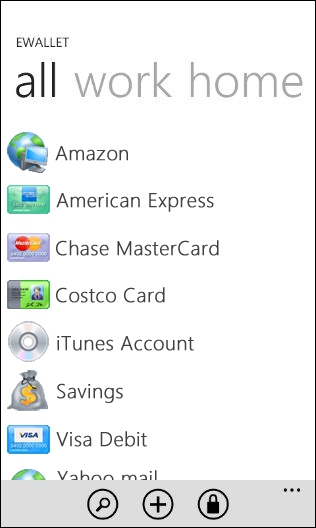 It's great to see a long-time Windows Phone developer like Ilium making a commitment to the new platform! What you might be asking yourself is how can a digital wallet program like this work without file sync? By putting a bullet in the head of ActiveSync/Windows Mobile Device Center, Microsoft broke the link between desktop/laptop and your Windows Phone. Given the buggy history of both of those products, some might view that as a good thing - yet, bugs and all, it was important for me as a user to be able to put files onto and pull them off of my device.
The Zune Desktop software allows you to sync media, but not files. This breaks scenarios that are important to some people; I actually stopped using digital wallet software on my Windows Phone because I hated the dysfunction in the desktop sync experience so much, and because I used a hosted Exchange account [affiliate], I get everything I need without having to desktop sync.
So how is Ilium performing this magic if there's no way for them to sync a wallet file to the phone? They're mum on the exact method for now (and, yes, I asked), but I think it's going to be one two ways in my opinion: they're either going to go via the cloud, or via a desktop software conduit. I really hope it's the former, and not the latter, because installing a desktop software app to sync one application is a poor solution for a variety of reasons. I'm going to guess that Ilium is going with a cloud-based solution; eWallet will do an encrypted record-level sync with their Web server. This is a flexible solution that makes multi-platform solutions easier, but given the type of ultra-important information people put in their digital wallets, there's certainly a concern about security. I wonder how Ilium is going to address that?
---